Vibrant Sinus Support
Regular price

Sale price

$36.20
Description

The standardized nutrients and botanicals in Tringali Vibrant Sinus Support help support microflora balance, promote normal mucus viscosity for healthy sinus function, and promote a balanced inflammatory response.

The standardized nutrients and botanicals in Vibrant Sinus Support help support microflora balance, promote normal mucus viscosity for healthy sinus function, and promote a balanced inflammatory response.

CLINICAL APPLICATIONS

Provides Immediate Support for Sinus and Respiratory Challenges

Maintains Optimal Sinus Clearance

Aids in the Breakdown of Mucus




OVERVIEW


Optimal sinus health requires proper circulation through the sinus cavities that is free of mucus build-up. The sinuses are composed of hollow cavities that are lined with soft tissue, called mucosa. Under healthy conditions, the sinuses are empty and contain a thin layer of mucus. A healthy process that occurs in the sinus cavities, termed mucociliary clearance, allows the ciliated epithelium (hair-like structures located on tissues), in coordination with mucus production, to continually remove waste from the sinuses by facilitating drainage and particle removal. Typical particles that collect in the sinus cavities include dust, pollen, dirt, allergens and fungi. Vibrant Sinus Support contains a synergistic blend of ingredients that support sinus health by increasing mucociliary clearance, decreasing the build-up of mucus and boosting immune response during seasonal respiratory challenges.

Vibrant Sinus Support is a specialized preparation of botanicals and nutrients formulated to support immune health and provide immediate support for respiratory challenges. The standardized botanicals and nutrients in Tringali Vibrant Sinus Support target sinus related issues by clearing airway passages, decreasing the viscosity of mucus and supporting immune health.

Suggested Use:

3 capsules per day or as recommended by your health care professional






INGREDIENT BENEFITS


N-Acetyl Cysteine

N-acetyl cysteine (NAC) is a powerful amino acid that dissolves mucus by breaking up disulfide bonds which make up the protein network that contributes to mucus density. This results in improved drainage out of the sinus cavity. In a double-blind study examining 12 healthy volunteers with slow mucociliary clearance, NAC administration for 60 days resulted in a 35% increase in mucociliary clearance rate in treated subjects, compared to no improvement in the placebo group. Additional studies have also demonstrated an improvement in mucus clearance following NAC administration.

Turmeric Root (Complete Turmeric Matrix)

Whole-root turmeric and its active compounds have been used in traditional Ayurvedic Medicine for centuries. New research on turmeric shows that more than curcumin, additional turmeric bioactives in turmeric have added benefits and enhance bioavailability. Tringali Vibrant Sinus Support offers a full spectrum turmeric ingredient with an exclusive blend of bioactive turmeric nutrients. The complete turmeric matrix formula provides a comprehensive systemic effect where it maintains normal inflammatory balance, supports microbiome diversity and balances immune function.

Bromelain

Bromelain is a plant enzyme that is naturally found in the stem and fruit of the pineapple plant. Bromelain exerts a synergistic effect when combined with NAC due to its proteolytic (protein-digesting) effects. Bromelain has been shown to be effective at thinning nasal secretions and provides an additional benefit of balancing inflammatory response.

Berberine Sulfate Hydrate

Berberine sulfate is a botanical extract found in the roots and barks of various plants including Oregon grape root, barberry and goldenseal. Berberine extract has been shown to support immune response by increasing blood flow to the spleen and by activating immune compounds such as macrophages. Berberine maintains healthy sinus function by quieting localized inflammatory response- Berberine has been shown to inhibit activator protein 1 (AP-1) and inhibits thromboxane A2 from platelets.

Licorice Root Extract

Licorice root has been used in Western and Eastern cultures for thousands of years. Licorice's health-promoting benefits include soothing respiratory irritation. The active components in licorice, glycyrrhizin and glycyrrhetinic acid, strengthen immune response by inducing interferon activity, activating macrophages and augmenting natural killer cell activity. Glycyrrhizin exerts its inflammatory balancing response by inhibiting the production of reacted oxygen species released by neutrophils.

Andrographis

Andrographis paniculata is a plant that has been used in Asian medicine for centuries. The immune boosting properties of andrographis have been research extensively in clinical studies- Per the analysis of seven double-blind controlled trials, andrographis has been shown to be a safe botanical for supporting upper respiratory tract health.

Eleuthero

Recent studies utilizing the combination of Eleuthero and Andrographis have demonstrated the combination of herbs to be particularly helpful for patients with upper respiratory challenges.

Thyme

Thyme has been traditionally used to help soothe sinuses and loosen phlegm. Thymol, the active ingredient in thyme, also has immune supporting properties and competes with pathogens commonly found throughout the sinuses and respiratory tract. The German Commission E has approved thyme to help support respiratory challenges.


Share
*These statements have not been evaluated by the Food & Drug Administration. This product is not intended to diagnose, treat, cure or prevent any diseases. Individual results may vary.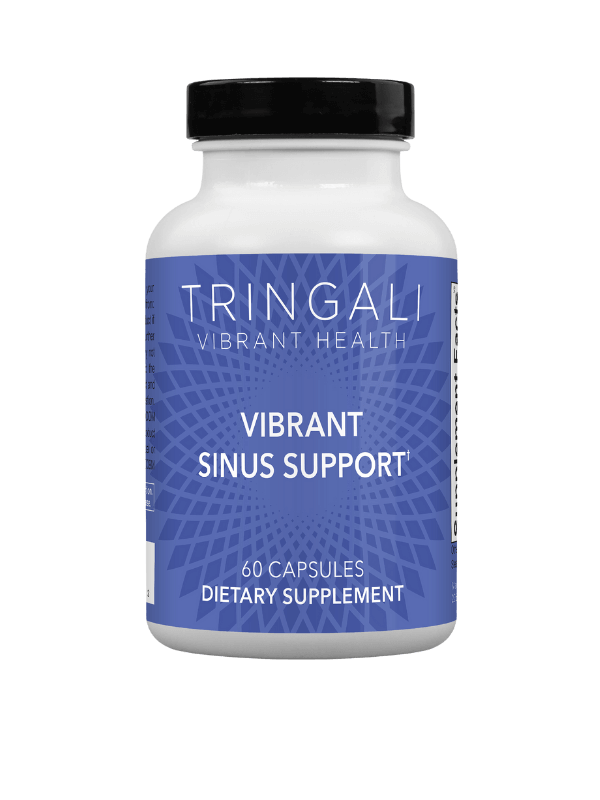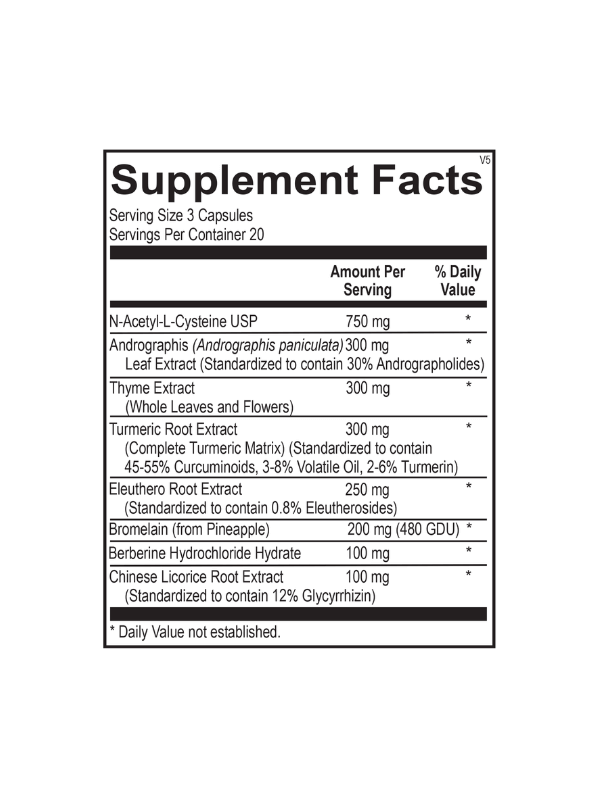 The Tringali Commitment to Vibrant Health
Quality First

Endorsed by Elizabeth Tringali, PA-C, our supplement offerings adhere to the highest standards of quality.

Fast and Safe Shipping

Your journey to vibrant health should be straightforward and worry-free, which is why we ensure that our products reach you promptly and securely.

Dedicated Support

Your journey towards vibrant health is personal, and we're here to guide you every step of the way.
The Reviews Are In!