Cytoquel
Regular price

Sale price

$64.98
Description

CytoQuel®, backed by peer-reviewed research published in the

Journal of Pain Research1

, is a comprehensive blend to promote healthy cytokine function.

Features:

Published, peer-reviewed clinical research1

GMO-Free, Vegan, Soy Free

CurcuWIN™ turmeric extract (46x more absorbable than standard curcumin)

DeltaGold® tocotrienols (annatto derived pure delta & gamma tocotrienols)

Also contains EGCG, NAC, and natural Trans-Resveratrol (from Japanese knotweed, Polygonum cuspidatum extract)

What is a cytokine?

During an infection, the body naturally produces pro-inflammatory cytokines as part of its defense mechanism. The healthy body balances pro-inflammatory cytokines with anti-inflammatory cytokines. However, if pro-inflammatory cytokines such as IL-1, IL-6, IL-8, IL-17, IL-23, Tumor Necrosis Factor-alpha (TNF-α), or Nuclear Factor kappa Beta (NF-κß), continue in the "on position" after the immune threat has ended, inflammation levels remain high. Long-term or chronic inflammation can negatively impact overall health, contributing to chronic pain, poor sleep quality, and unhealthy cardiovascular function. Recent studies have demonstrated that maintaining healthy cytokine function is essential to healthful aging.

CytoQuel® – formulated for maximum efficacy to support cytokine health

Clinically researched CytoQuel® was developed utilizing the latest ingredient research. Each ingredient was carefully selected for its mechanisms of action in support of cytokine health. The result was a powerful multi-ingredient formula that has been clinically researched and proven to support healthy, balanced cytokine function.*

Peer-reviewed published clinical research on CytoQuel®

To demonstrate the efficacy of this formulation, CytoQuel® underwent an 8-week clinical human study. The published peer-reviewed research on CytoQuel® showed statistically significant evidence of its ability to support healthy cytokine function, blood pressure, and sleep quality*. The study was published in the

Journal of Pain Research1

.

Click here to view more research and articles on CytoQuel®

Features
Constituents/Actions
Benefits*
CQ™ Blend
N-acetyl cysteine (NAC)
• Promotes healthy NF-k Beta, IL-6, IL-8 levels
Black Tea Extract
• High level of the polyphenol, EGCG
• Promotes healthy levels of IL-23, which controls IL-17 levels
• Supports healthy levels of NF-k Beta, TNF- α, IL-1 beta, IL-6, IL-8 (Herxheimer reactions increase TNF- α, IL-6 & IL-8)
CurcuWIN™ turmeric extract
• Promotes healthy levels of IL-6, IL-17, IL-21
• Published research demonstrating it as the highest bioavailable form of turmeric
• CurcuWIN combines curcumin with a hydrophilic (allowing it to disperse in water) carrier, using the UltraSOL™ molecular dispersion technology. UltraSOL converts lipophilic (fat-loving or fat-absorbing) nutrients into water-dispersible ingredients.
DeltaGold® Tocotrienols
• 100% delta and gamma tocotrienols and no tocopherols (which may reduce the absorption of the potent tocotrienol compounds).
• Promotes healthy inhibition levels of NF-k Beta & nitric oxide
Resveratrol (Natural Trans-Resveratrol)
• Promotes healthy inhibition levels of TNF-
α, IL-1 beta, IL-6 & NF-k Beta

1Hamilton DE, Jensen GS. Pain reduction and improved vascular health associated with daily consumption of an anti-inflammatory dietary supplement blend. J Pain Res. 2019 May 15;12:1497-1508. DOI: 10.2147/JPR.S189064. PMID: 31190960; PMCID: PMC6526776.

CQ™ Blend | 1850 mg

Black Tea Extract (50% EGCG)

N-Acetyl Cysteine

CurcuWIN™ Turmeric Extract

DeltaGold® Tocotrienols

Resveratrol (Natural Trans-Resveratrol)

Other Ingredients:

Vegetable Capsule, L-Leucine, Silicon Dioxide

Suggested Use:

Take 3 capsules once per day with a meal. Sensitive patients may start with 1 capsule per day with a meal for the first week, and then move up to 3 capsules per day in weeks two and beyond, or use as directed by your health care professional. For best results take away from Vitamin E (tocopherol).

Caution:

If pregnant or nursing, consult your health care professional before use.
Share
*These statements have not been evaluated by the Food & Drug Administration. This product is not intended to diagnose, treat, cure or prevent any diseases. Individual results may vary.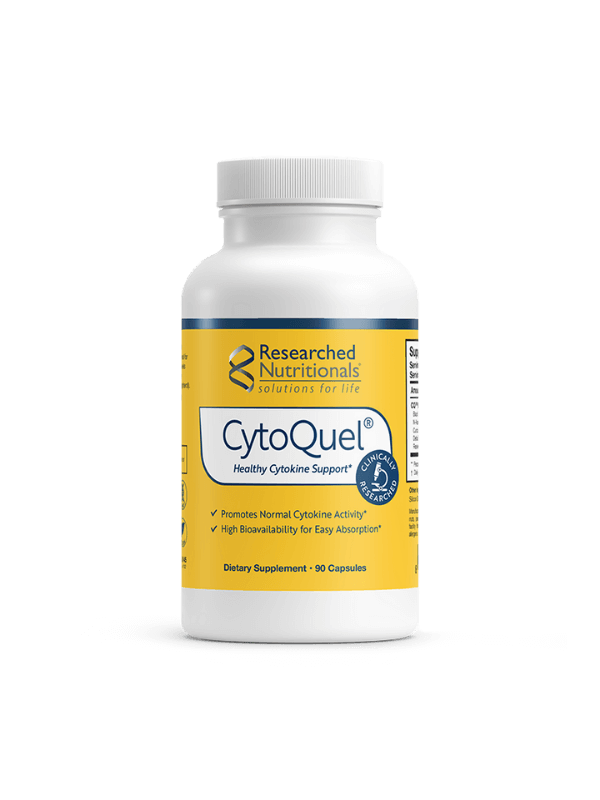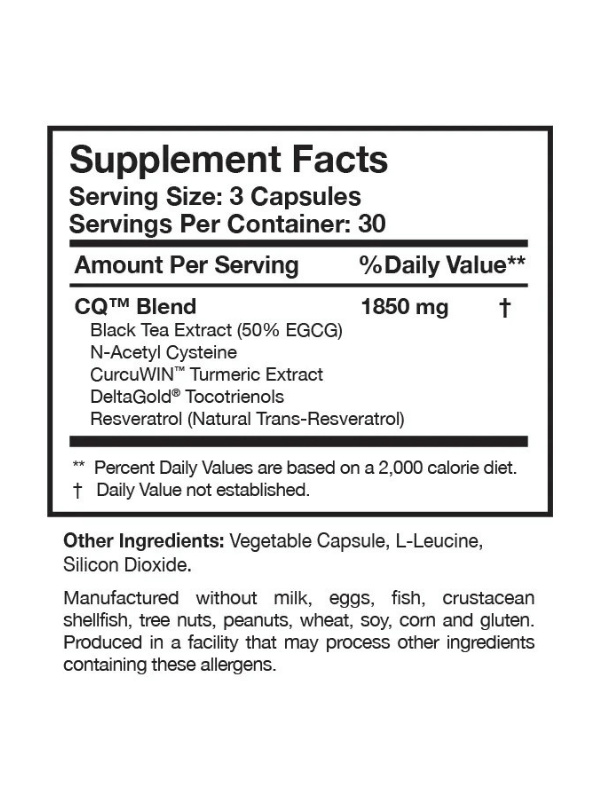 The Tringali Commitment to Vibrant Health
Quality First

Endorsed by Elizabeth Tringali, PA-C, our supplement offerings adhere to the highest standards of quality.

Fast and Safe Shipping

Your journey to vibrant health should be straightforward and worry-free, which is why we ensure that our products reach you promptly and securely.

Dedicated Support

Your journey towards vibrant health is personal, and we're here to guide you every step of the way.
The Reviews Are In!