BPC-157 60ct
Regular price

Sale price

$139.99
Description

BPC-157 is a pentadecapeptide made up of 15 amino acids that is derived from human gastric juice. BPC-157 is also known as the "Wolverine" peptide, for its ability to help support repair and recovery, many have also found that it's helped support gut issues, gastric reflux, depression, performance, and more.

BPC-157 has been studied for a variety of topics and has shown to be helpful in many areas such as: tendinopathy, gastric ulcers, general inflammation, and even neuroprotection. BPC-157 seems to work by interacting with our cells' systems that are responsible for growth and repair, thus helping the body to heal itself.

One of the most exciting potential benefits of BPC-157 is its ability to help with tendon repair. Tendons are the tough, fibrous tissues that connect our muscles to our bones and are essential for movement. However, tendons are also susceptible to injury and can often be slow to heal. This is where BPC-157 comes in; by aiding in the repair and regeneration of damaged tendons, BPC-157 could potentially help reduce recovery time and improve outcomes following an injury.

BPC-157 has also been shown to be beneficial in supporting the healing of gastric ulcers. Gastric ulcers are a type of peptic ulcer that develops in the lining of the stomach. They are a common and often painful condition that can be difficult to treat. However, BPC-157 has been shown to promote healing of gastric ulcers and improve symptoms.

There is also some evidence to suggest that BPC-157 may be helpful in supporting inflammatory bowel disease (IBD). IBD is a chronic condition that causes inflammation of the digestive tract. Symptoms can include abdominal pain, diarrhea, and weight loss. BPC-157 has been shown to reduce inflammation and improve symptoms in animal models of IBD. Overall, BPC-157 appears to be a promising compound with the potential to support a variety of gastrointestinal disorders.

One of the best things about BPC-157 is that it is orally bioavailable, particularly the arginate salt we use, is extremely stable. We wanted to make sure that oral bioavailability was maximized which is why we included a molecule called SNAC in our formulation.

Salcaprozate sodium, or SNAC

, is one of the most advanced intestinal permeation enhancers that have been tested in clinical trials for oral delivery of macromolecules. It was originally designed for the oral delivery of insulin. In one study, SNAC increased the absorption of a peptide (a short chain of amino acids) by nine-fold without affecting tight junctions.

Healthgevity's formulation includes an optimal ratio of salcaprozate sodium to our active ingredients. This combination results in exceptional oral absorption of this combination without compromising its stability or efficacy.

BPC-157:



Staresinic M, Japjec M, Vranes H, Prtoric A, Zizek H, Krezic I, Gojkovic S, Smoday IM, Oroz K, Staresinic E, Dretar V, Yago H, Milavic M, Sikiric S, Lovric E, Batelja Vuletic L, Simeon P, Dobric I, Strbe S, Kokot A, Vlainic J, Blagaic AB, Skrtic A, Seiwerth S, Sikiric P. Stable Gastric Pentadecapeptide BPC 157 and Striated, Smooth, and Heart Muscle. Biomedicines. 2022; 10(12):3221. https://doi.org/10.3390/biomedicines10123221


Seiwerth, Sven et al. "BPC 157 and Standard Angiogenic Growth Factors. Gastrointestinal Tract Healing, Lessons from Tendon, Ligament, Muscle and Bone Healing." Current pharmaceutical design vol. 24,18 (2018): 1972-1989. doi:10.2174/1381612824666180712110447


Gwyer, Daniel et al. "Gastric pentadecapeptide body protection compound BPC 157 and its role in accelerating musculoskeletal soft tissue healing." Cell and tissue research vol. 377,2 (2019): 153-159. doi:10.1007/s00441-019-03016-8


Chang, Chung-Hsun et al. "The promoting effect of pentadecapeptide BPC 157 on tendon healing involves tendon outgrowth, cell survival, and cell migration." Journal of applied physiology (Bethesda, Md. : 1985) vol. 110,3 (2011): 774-80. doi:10.1152/japplphysiol.00945.2010


Sikiric, Predrag et al. "Brain-gut Axis and Pentadecapeptide BPC 157: Theoretical and Practical Implications." Current neuropharmacology vol. 14,8 (2016): 857-865. doi:10.2174/1570159x13666160502153022


Seiwerth, S., Sikiric, P., Grabarevic, Z., Zoricic, I., Hanzevacki, M., Ljubanovic, D., … Kolega, Z. (1997). BPC 157's effect on Healing. Journal of Physiology Paris, 91(3–5), 173–178. https://doi.org/10.1016/S0928-4257(97)89480-6



Salcaprozate sodium (SNAC):



Twarog, Caroline et al. "Intestinal Permeation Enhancers for Oral Delivery of Macromolecules: A Comparison between Salcaprozate Sodium (SNAC) and Sodium Caprate (C10)." Pharmaceutics vol. 11,2 78. 13 Feb. 2019, doi:10.3390/pharmaceutics11020078


Zhu Q, Chen Z, Paul PK, Lu Y, Wu W, Qi J. Oral delivery of proteins and peptides: Challenges, status quo and future perspectives. Acta Pharm Sin B. 2021 Aug;11(8):2416-2448. doi: 10.1016/j.apsb.2021.04.001. Epub 2021 Apr 29. PMID: 34522593; PMCID: PMC8424290.


Share
*These statements have not been evaluated by the Food & Drug Administration. This product is not intended to diagnose, treat, cure or prevent any diseases. Individual results may vary.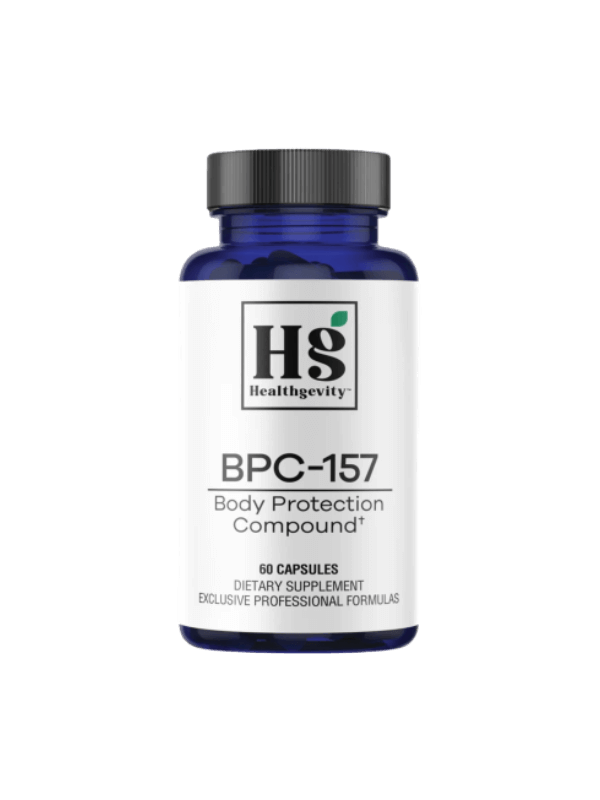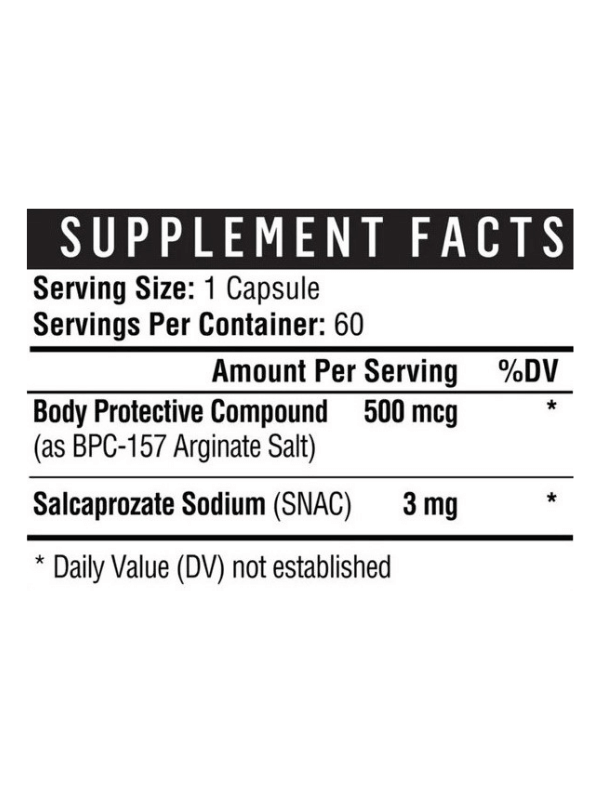 The Tringali Commitment to Vibrant Health
Quality First

Endorsed by Elizabeth Tringali, PA-C, our supplement offerings adhere to the highest standards of quality.

Fast and Safe Shipping

Your journey to vibrant health should be straightforward and worry-free, which is why we ensure that our products reach you promptly and securely.

Dedicated Support

Your journey towards vibrant health is personal, and we're here to guide you every step of the way.
The Reviews Are In!